Are you enthralled by the sky? Starry nights in the dark? Is the Sahara desert awe-inspiring to you? Sand dunes and stars? The moon with the constellations? If so, join us on a Moroccan Desert Stargazing Safari to learn about culture, nature, and the desert skies.
We provide a delightful stay in our one-of-a-kind luxury desert astro camp, which includes transportation to the camp at Erg Chebbi, a camel ride, accommodation in a luxury berber tent, dinner, unlimited stargazing, an assisted sky lecture, and unlimited sky observation with a 400 mm telesciope. Breakfast and transportation back to Merzouga or Hassilabiad are included.
DAY 1 : HASSILABIAD VILLAGE (MERZOUGA) - ANDROMEDA DESERT SKY CAMP - ASTRONOMY NIGHT
Organize a meeting with us at RIAD KEM KEM. Hassilabiad is located in the center of the village. We put you in charge after registration. We have to drive 40 minutes on a rough 4x4 road to reach our camp ANDROMEDA Desert Sky Camp, which is located in the center of the sand dunes. We greet you with a mint tea, then we take you for a camel ride, where you can enjoy the sun setting in the desert sand dunes and contemplate VENUS, which is visible after sunset. We then put you up in your magnificent tent and give you dinner at the opulent desert camp.
@ 21:00 hrs - general presentation - The presentation will include information about the nomadic way of life and the impact of the sky, stars, and planets on the lives of the desert's human inhabitants, such as how they guided their trading caravans on safe routes across the mighty Sahara by using the night sky as a means of orientation.
@ 21:45 - observation - Sky observation and contemplation, assessing your knowledge and understanding of the presentation
@ 22 h 00 - sky lecture - Exploration of circumpolar constellations, additional observable constellations depending on the season, open clusters, planets, and the Milky Way.
@ 22:30 - observation with a 200 mm telescope - observation of the moon, planets, open clusters, questions and answers with our presenter The discussion will be open until 23:00 p.m., when it will be closed and the presentation will conclude. Then you can retire to your tent for the night or enjoy the open air fire and the spectacular sky.
DAY 2 : ANDROMEDA DESERT SKY CAMP - HASSILABIAD VILLAGE (MERZOUGA)
After breakfast, we return to Merzouga and Hassilabiad village.
Note: If you require any modification for our 1 Night Stargazing at Andromeda Desert Sky Camp itinerary please contact us.
1 NIGHT MERZOUGA STARGAZING AT ANDROMEDA DESERT SKY CAMP
Participate in an Morocco astronomy tour of Merzouga in a one-of-a-kind experience.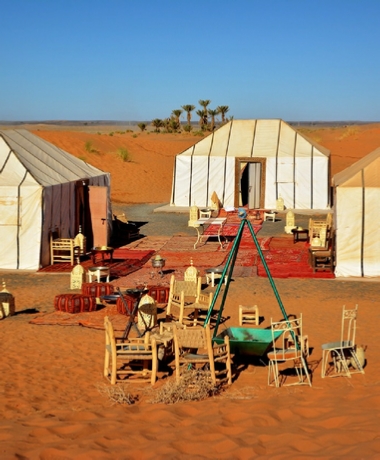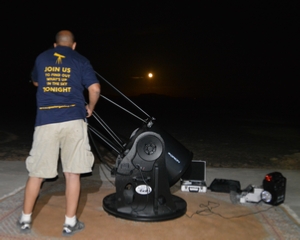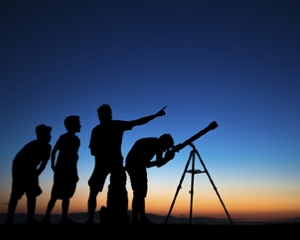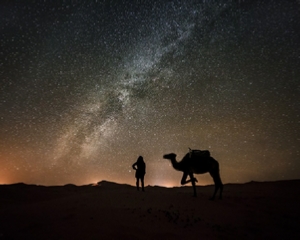 Is Stargazing in Morocco in the edge of the Sahara is your dream ?
Go stargazing in Morocco's Merzouga desert if you appreciate astronomy. Although astronomy is not frequently practiced in Morocco, it is an enthralling subject, especially in the south, where the sky meets the desert.
INCLUDED:
Private transfer in A/C vehicle and pick up from your Merzouga hotel
Accommodation in comfortable desert camp.
Dinner, breakfast included in the Morocco astronomy trip.
Morocco astronomy tour with a guide.
Camel ride in Merzouga desert.
NOT INCLUDED:
Lunches, soft drinks.


STARGAZING AT ANDROMEDA DESERT SKY CAMP.
1 NIGHT STARGAZING TOUR IN MOROCCO.
MOROCCO ASTRONOMY TRIPS
Stargazing trips to Sahara desert, in Merzouga


Tour from Marrakech to Fes


5 Day Tour from Fes to Merzouga


Tour from Marrakech to desert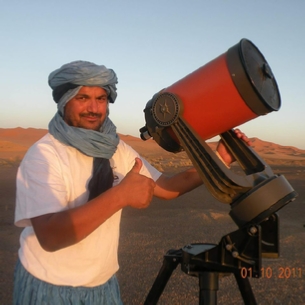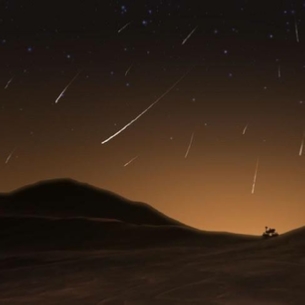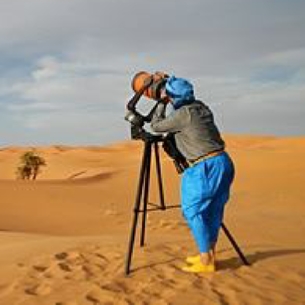 When you think about Morocco, one of the last things that comes to mind is stargazing.
However, it is an ideal location since, while the majority of us live in areas with high population density and light pollution, which hinder the natural starry sky, there are parts in Morocco with no city lights. Merzouga Erg Chebbi sand dunes are one of Morocco's most spectacular and unusual stargazing destinations.
Try a camel trip into the Sahara for an incredible night of stargazing under one of the desert's most beautiful skies. The stars are spectacular in the Sahara, and the sky is gloomy.


at Andromeda Desert Sky Camp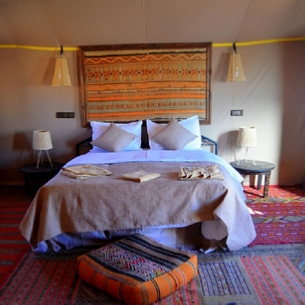 Astro Tour from Fes to Merzouga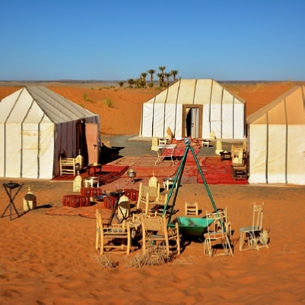 Casablanca (Errachidia) Astro Tour



Morocco Astro Tour from Casablanca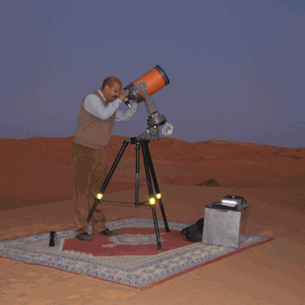 Morocco Astro Tour from Casablanca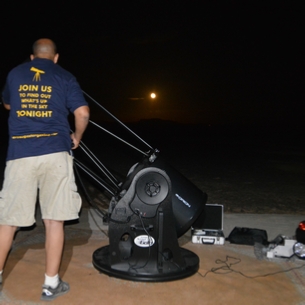 MOROCCO STARGAZING TRIPS MERZOUGA SAHARA DESERT